For more than 25 years we have developed a specialized and meticulous work when proposing the ideal model of pallet conveyor to each client that comes to us in search of a reliable supplier in industrial machinery of cargo handling. That is the role we play in Dexve thanks to our proven ability to combine a comprehensive and careful catalog with an advice tailored to each company, thus forming a very useful and reliable service that you can rely on to be sure of obtaining an equipment to match your needs and with the best value for money.
We have pallet transport machinery that includes both the roller system, based on modular designs and therefore highly adaptable, such as the one that uses a chain mechanism. In both cases we guarantee a performance that meets expectations and features that fit your facilities and the demands of your production. Keep in mind that we also have rotating tables, ferries or aligners, among other solutions, since our intention is to provide you with those components that allow you to organize your workflows in an appropriate manner, we are specialists in transporting palletized loads.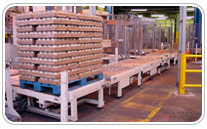 We put in your hands the pallet conveyor that you need
It should be noted that within our catalog of machinery we also make room for a remarkable variety of price conveyor belts that, following the line of our entire range, are remarkably competitive. Through our company and with the involvement in the advice that distinguishes us you will have the opportunity to acquire the most reasonable equipment and specifically adjusted to your requirements, also in case you need to get a hydraulic load elevator or even a weightless manipulator . Consult the entire list of categories that we deal with solvency and knowledge.