Lifting table
What are the aspects that make Dexve the ideal supplier when it comes to acquiring a lift table? Our company not only has a long history of putting in the hands of customers a range of cargo handling equipment, giving good measure of the trust placed in us by many companies, but also we can highlight in particular the wide variety of models that we have in categories like the one we are dealing with. This allows us to adapt in a very specific way to the specifications that each one of our clients transfers to us.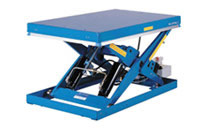 The range of lifting tables that we put at your disposal covers, for example, load capacities ranging from 500 kilograms to 40 tonnes, with dimensions and travel adapted to the needs of the customer. We can also highlight the fact that we have this diversity of options both in simple scissor tables and in double, triple or quadruple. We strive to bring our customers specific options for their various needs, such as extra-flat lift tables, for palletizing or manual depalletising positions without the need for a pit … do not hesitate to ask us about your needs that fit into the logistics activities or of cargo handling of your company.
We will provide the hydraulic lifting table that fits your processes
With our extensive catalog, powered by leading manufacturers, we greatly facilitate the possibility that each of our customers can acquire exactly the hydraulic table that meets their needs, enjoying in any case a team of excellent performance and performance based of electrical power. Transfer your requirements so that we can propose the ideal model for you and remember that we also have interesting options in other formats of industrial machinery for handling loads such as a pallet conveyor, a conveyor belt or a forklift.