The engineering team of Dexve stands out, among other aspects, in the selection and design of conveyor belts at attractive prices that not only stand out for their competitiveness, but also for adapting particularly to the type of loads, the workflows and the particularities of the facilities of each of the customers who come to us. We work for this with solutions of all kinds, including standardized equipment, others of modular format or directly with custom designs. We have band tapes, extensible, roller, hinge … and many possible adaptations.
If we have been working for 25 years as a benchmark company in the production and installation of cargo handling solutions, we adapt to the particularities of each company, achieving unbeatable value for money and unbeatable levels of efficiency in their facilities.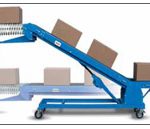 Conveyor belts with prices and features that make a difference
Of course, at Dexve we not only offer optimal solutions for non-palletized loads, such as those found in this section of our product range. In fact, our ability to provide each customer with the pallet conveyor better adjusted to their facilities, with roller or chain mechanism, adds a whole range of machinery that can make a difference in the agile, reliable and safe handling of the pallets, including the best in forklifts at really competitive prices.
Do not hesitate to use any of our contact ways to let us know your casuistry; In this way, we will be able to inform you of the possibilities we have available in order to optimize your cargo transport equipment. Our team of specialized professionals will focus on your project to present you not only the most interesting budget but also the machinery that will best fit your particularities. This is what we have been doing in the broad scope of work that we cover as reference suppliers.